hand-painted personalised child gifts
Below are examples of our wooden hand-painted furniture and gifts. If there is an example below that you like or if you want to discuss your completely bespoke hand-painted gift, please call us on 01428 644572 or email enquiries@pastpresenttoys.co.uk
Wooden memory boxes
These come in two sizes and have a lift-off lid.
The large size measures 25cm square and 12.5cm deep.
The small size measures 21cm square and 9cm deep.
Prices start from £9.50
Hinged Keepsake box
Prices start from £40.00
This box is 40cm long, 29cm wide and 23cm deep, with a lift up lid.
Table & two chairs
Please contact us for a price
The table height is 50cm and the seat height is 29cm high.
Chairs
Prices from £22.50
We usually have a choice of children's chairs available for decoration.
Toy boxes
From £40.00
We have several sizes and styles of toy box, from light weight boxes with lift off lids to more solid, larger boxes. Please contact us for sizes.
Stools
Flat packed & Presentation wrapped
These are 4 legged stools, 27cm in height and can be supplied either flat packed or gift wrapped in cellophane.
School clips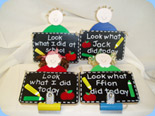 Pen pots
Pen pots are filled with a selection of pens, pencils or crayons.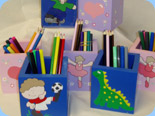 Activity Boxes
Activity boxes are filled with a selection on items suitable for the age and gender of the child.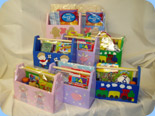 Clocks
£14.50
These are all wall hanging and can either be round or arch in shape.