Hand-painted child furniture and gifts
At Past and Present we design and hand-paint children's furniture and gifts. These beautiful personalised items are a perfect gift for a variety of occasions including christenings, birthdays, weddings, new baby and grandma's treasures amongst many others.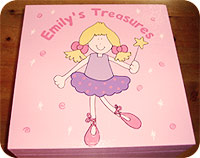 The colour, design, look and feel are completely bespoke and chosen by you. This way you can include colours and designs incorporating interests or favourite toys even, making a perfect individual and thoughtful gift. We can also help you to generate ideas and themes for your gifts making the design very special indeed.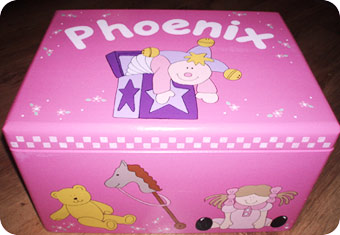 Examples of our work can be seen on our hand-painted children's gift and furniture page where you can browse through examples of memory boxes, keepsake boxes, clocks, furniture and much more. Our personalised wooden memory boxes and personalised wooden keepsake boxes are extremely popular and can complement and add thought to a multitude of occasions and special events see the memory box examples and keepsake box examples page.
These personalised child gift designs are completely bespoke and lovingly hand crafted meeting your exact requirements. What better way to add a personal touch to an occasion and give extra meaning. These delightful wooden hand-painted gifts can be kept so that in the future a child can remember these happy occasions and hold something that is completely unique and designed especially for them.
At the shop we stock a variety of wooden toys, gift items, baby gifts, children's books and handmade greetings cards. Brands we stock include - Galt, Plan Toys, Pin Toys, Hama Beads and Think Pink.
We can also put together party bags for you from a large range of items, prices starting from £1.50
Please contact us on 01428 644572 or email us on enquiries@pastpresenttoys.co.uk if you would like to find out more about us or have an enquiry about our toys and furniture.